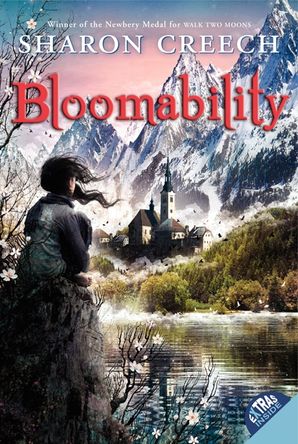 Read an excerpt
Bloomability
By Sharon Creech, Sharon Creech
Other Formats
Description
Kidnapped!
The kidnappers are actually her Aunt Sandy and Uncle Max, but that doesn't matter to Domenica Santolina Doone, better known as Dinnie. She feels as if she's being taken out of the country against her will. Certainly no one asked her opinion. Dinnie is used to change-with her family constantly moving from state to state while her father searches for one new "opportunity" after another. But when her aunt and uncle whisk her away to an international school in Lugano, Switzerland, Dinnie feels that this might be one "opportunity"that isn't right for her.
Suddenly Dinnie's surrounded by kids from many different cultures, backgrounds, and beliefs. Home, and her first life, seem so far away. Can she adapt to a new country, a new home, and new friends? Or will it just be easier to close herself off-just survive-and never realize all the "bloomabilities" that are possible?
Praises & Awards
Awards
IRA/CBC Children's Choice
IRA/CBC Young Adults' Choice
Product Details
Imprint: HarperCollins
Format: Paperback
On Sale: 12/04/2012
ISBN: 9780064408233
ISBN10: 006440823X
Pages: 272
Trimsize: 7.625 x 5.125 in
Subcategory:
JUVENILE FICTION / Social Issues / New Experience
JUVENILE FICTION / Family / General
JUVENILE FICTION / School & Education
Inspiration
During our last year living in Europe, I thought a lot about coming back to the States and wondered what I would miss when I did move back. One place I knew I would miss was Switzerland, where we'd lived for two years. My husband was the headmaster at an American/international school there; I taught English; our two children attended the school. The school is in Montagnola, near Lugano, in the Italian-speaking Ticino.


We loved Switzerland and the language and the people—all of it. I thought it might be nice to set a book there, so that I could "revisit" it as I wrote, and I think I also wanted to capture Switzerland before I returned to the States, so that I'd never forget it. Although the characters and the school are fictional, to me they represent a lot of international schools and students—students who are from all over the world and are away from their families, who gain an appreciation for their host country and for people of other nationalities.
Tidbit
The original jacket bears an artist's rendering of "real" pictures I sent to my editor. On the front is a picture of our daughter, Karin, reclining on a mountain in Andermatt (I love that she's taken off her hiking boots and seems so happy there on that mountain). Beneath that picture is one of my youngest brother, Tom, and to the right of that is a view from our house there, looking up the hill toward Montagnola. The hardcover has additional pictures on the back: one is of a teacher, Laura Studders, our son, Rob, and our daughter on the slopes of St. Moritz; beneath that is a photo of my husband, Lyle.