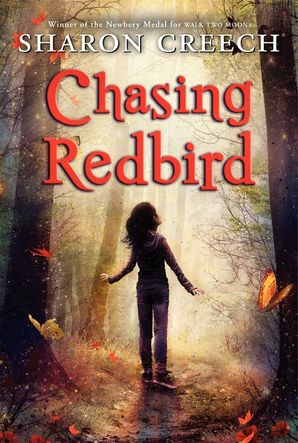 Read an excerpt
Chasing Redbird
By Sharon Creech
Other Formats
Description
"Intriguing, delightful, and touching." —School Library Journal (starred review)
"Creech's best yet." —Publishers Weekly (starred review)
It started out as an ordinary summer. But the minute thirteen-year-old Zinny discovered the old, overgrown trail that ran through the woods behind her family's house, she realized that things were about to change.
It was her chance to finally make people notice her, and to have a place she could call her very own. But more than that, Zinny knew that the trail somehow held the key to all kinds of questions. And that the only way to understand her family, her Aunt Jessie's death, and herself, was to find out where it went.
From Newbery Medal-winning author Sharon Creech comes a story of love, loss, and understanding, an intricately woven tale of a young girl who sets out in search of her place in the world—and discovers it in her own backyard.
An ALA Best Book for Young Adults
Praises & Awards
Praises
School Library Journal (starred review)
"Intriguing, delightful, and touching."
Publishers Weekly (starred review)
"Creech's best yet."
School Library Journal (starred review)
"Intriguing, delightful, and touching."
Publishers Weekly (starred review)
"Creech's best yet."
Awards
IRA/CBC Children's Choice
IRA/CBC Young Adults' Choice
ALA Best Fiction for Young Adults
IRA/CBC Teachers' Choice
Parents' Choice Silver Honor
Product Details
Imprint: HarperCollins
Format: Paperback
On Sale: 04/24/2012
ISBN: 9780064406963
ISBN10: 0064406962
Pages: 272
Trimsize: 7.625 x 5.125 in
Subcategory:
JUVENILE FICTION / Family / Multigenerational
JUVENILE FICTION / Social Issues / Death & Dying
JUVENILE FICTION / Social Issues / Adolescence
Inspiration
When I finished writing Walk Two Moons and was ready to begin a new story, I wanted to return to Bybanks (the home town of Salamanca in Walk Two Moons), and so I thought I'd write the story of a girl who might have been Salamanca's friend there. I didn't want her to be too much like Salamanca, though, and so I imagined Zinny living in a large family and being lost in that family. Bybanks is based on the "real" town of Quincy, Kentucky, where my cousins live on a farm, and so when I returned to that setting, I remembered my cousins' farm and the woods nearby, and all the trails we used to follow. And so, the idea of Zinny finding a trail came to mind. As I was writing, I was vaguely aware that the trail was working on many levels. Not only was it a real, literal trail in the woods, but it also seemed to mirror the trails we all follow in our lives (which way should we go? what should we do?) and also to mirror the writing process (which way will this story turn? why can't I see where it's going?). 


As Zinny clears her trail, she tries on different identities: Zinny Taylor, explorer; Zinny Taylor, archeologist; Zinny Taylor, agent of doom! This was like me, when I was young and running down those trails. I'd imagine that I was an escaped convict, or an explorer, or a hunter.
Tidbit
For background research, I scoured hiking and trail guides, and one thing that I liked so much about these guides was the interesting names that were given to various places. One of the most enjoyable parts about writing this book was coming up with my own names for places along Zinny's trail, like Baby Toe Ridge and Donut Hole and Hogback Hill.