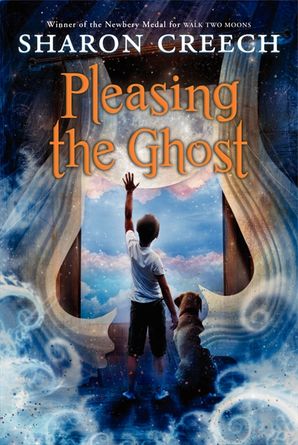 Read an excerpt
Pleasing the Ghost
By Sharon Creech
Other Formats
Description
Newbery Medal winner and master storyteller Sharon Creech spins a wonderfully funny and tender tale.
As nine-year-old Dennis confronts the ghost of his uncle Arvie, Arvie's eccentric antics and wonderful wordplay keep the reader laughing. But at its tender heart, the story reveals the holes left in our lives when we lose the ones we love.
Ever since nine-year-old Dennis's dad died, a veritable parade of ghosts has been passing through his bedroom. When the ghost of his uncle Arvie blows into his room on a warm breeze, Dennis isn't surprised, but Uncle Arvie is the first ghost who wants something from Dennis.
Dennis would love to help Uncle Arvie, but he can't quite understand what Uncle Arvie is asking for. What, for example, is "Fraggle pin Heartfoot a wig pasta"? Dennis has to find out, because this is one ghost who isn't going to leave until he gets what he came for.
Uncle Arvie's antics and Dennis's attempts to please his ghost form the heart of this touching story.
Praises & Awards
Awards
Parents' Choice Gold Award
Product Details
Imprint: HarperCollins
Format: Paperback
On Sale: 04/23/2013
ISBN: 9780064406864
ISBN10: 0064406865
Pages: 112
Trimsize: 7.625 x 5.125 in
Subcategory:
JUVENILE FICTION / Family / General
JUVENILE FICTION / Horror & Ghost Stories
JUVENILE FICTION / Humorous Stories
Inspiration
Three rather different things came together to inspire this book:
I'd been teaching Shakespeare's Hamlet, a play in which, early on, a ghost (Hamlet's father) appears, and my class had been talking about why ghosts (if there are such things) might arrive. One reason, we speculated, was because they needed help in completing an unfinished task.
My father, Arvel, had a stroke, which left him unable to speak correctly. Sometimes the sounds and words that came out of his mouth were both funny (their sounds) and sad (because he couldn't say what he meant).
After my father died, my mother found a love letter he had written her fifty years earlier. As I reread that letter, I had the reassuring feeling that he was there again, in the room. So out of that came the story of the ghost of Uncle Arvie, who can't speak correctly, and who visits his nephew Dennis, in hopes that Dennis can help him complete three unfinished tasks. One of these involves a love letter to his wife.
Tidbit
The dog, Bo, is named after a neighbor's dog, but has the personality of a golden retriever we once had. People often ask where Uncle Arvie's strange words came from. Most of them just popped into the air. For some, I wanted words that either sounded like or began with the same letter as the "real" word. For example: pepperoni for papa; macaroni for mama; dinosaur for Dennis. Other words just sounded funny, like wig pasta and deester.