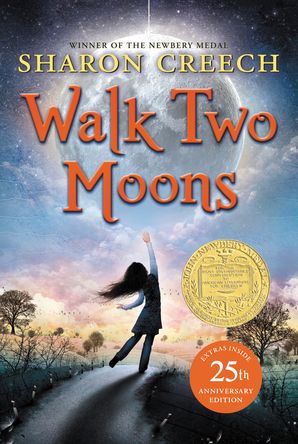 Read an excerpt
Walk Two Moons
By Sharon Creech
Description
In her own singularly beautiful style, Newbery Medal winner Sharon Creech intricately weaves together two tales, one funny, one bittersweet, to create a heartwarming, compelling, and utterly moving story of love, loss, and the complexity of human emotion. This middle grade novel is an excellent choice for tween readers in grades 5 to 6, especially during homeschooling. It's a fun way to keep your child entertained and engaged while not in the classroom.
Thirteen-year-old Salamanca Tree Hiddle, proud of her country roots and the "Indian-ness in her blood," travels from Ohio to Idaho with her eccentric grandparents. Along the way, she tells them of the story of Phoebe Winterbottom, who received mysterious messages, who met a "potential lunatic," and whose mother disappeared.
As Sal entertains her grandparents with Phoebe's outrageous story, her own story begins to unfold—the story of a thirteen-year-old girl whose only wish is to be reunited with her missing mother.
Praises & Awards
Praises
1995 Newbery Award Selection Committee.
"The book is packed with humor and affection and is an odyssey of unexpected twists and surprising conclusions."
School Library Journal
"A richly layered novel about real and metaphorical journeys."
Booklist
"This story sings."
Brightly
"In this funny and sad adventure story, readers fall in love with 13-year-old Salamanca, who is proud of her Indian blood and her country roots. Two stories weave together and teach the important life lesson that every story has two sides."
Awards
Sequoyah Young Adult Book Award (Oklahoma)
Virginia Young Readers Award
Parents' Choice Gold Award
Bulletin Blue Ribbon (The Bulletin of the Center for Children's Books)
Newbery Medal
School Library Journal Best Book
Notable Children's Book in the Language Arts (NCTE)
ALA Notable Children's Book
Product Details
Imprint: HarperCollins
Format: Paperback
On Sale: 06/18/2019
ISBN: 9780064405171
ISBN10: 0064405176
Pages: 304
Trimsize: 7.625 x 5.125 in
Subcategory:
JUVENILE FICTION / Family / Multigenerational
JUVENILE FICTION / People & Places / United States / Native American
JUVENILE FICTION / Social Issues / Self-Esteem & Self-Reliance
Inspiration
This story began as a follow-up to Absolutely Normal Chaos. In that book, Mary Lou Finney writes a summer journal, and as I began Walk Two Moons, I was merely speculating about what might happen when she turned in that summer journal to her English teacher. A few drafts later, Phoebe Winterbottom and her wild imagination leaped into the story, and she took over with tales of a disappearing mother and a lunatic. And then, shortly after rediscovering a fortune cookie message in the bottom of my purse (the message was "Don't judge a man until you've walked two moons in his moccasins"), I began a new draft with a new character: Salamanca Tree Hiddle. The fortune cookie message inspired a journey (walking "two moons") and a character who is a very small part Native American (the moccasins).
When I began Sal's story, all I knew was that she was a country girl and she was going on a trip. The rest of her story came out a little bit each day, as I sat down to write. I was too stubborn to throw away the earlier drafts with Mary Lou Finney and Phoebe Winterbottom, so they found their way into this new draft, along with Ben, the lunatic, Mr. Birkway, Margaret Cadaver, and Mrs. Partridge.
Tidbit
I have often told the story of how I was living in England in 1995, and one cold, gray February day (about eight months after Walk Two Moons was published), I was struggling with the end of the next book, Chasing Redbird. As I stepped out into our tiny backyard to scream, the phone rang. On the other end of the phone was Kathleen Horning, calling from the American Library Association convention in Philadelphia. She informed me that Walk Two Moons had received the Newbery Medal.
To say I was shocked is a vast understatement. I had no idea my book was even being considered, nor how the awards were made. I think I kept asking Kathleen Horning, "Are you kidding?" At the end of the call, the entire committee shouted (from the background), "Huzza, huzza!"
When someone from my publisher called shortly afterwards, I asked, "How many of these medals are given out each year?" She replied, "One, Sharon. One." You might think I would be deliriously excited—and I was—but I was also terrified, because I didn't know what to expect next. I was not prepared for the deluge of calls, faxes, and deliveries, for the requests for interviews and for information. It took me a long time to get over the surprise that people were interested in my book and in how it came to be written.
People often ask if the Newbery Medal changed my life. The answer is: Yes, absolutely and completely. It gave me a feeling of immense freedom—freedom to write, and freedom from the worries that many writers have (like "Will a publisher want to print my book?" and "Will anyone find my book?"). It forced me to learn how to give a speech in public (something I dreaded in the beginning, but now enjoy). It also gave me the chance to travel to conferences and schools all over the world, meeting readers and teachers and librarians. It is an enormous gift, the Newbery Medal, and I am grateful for it.