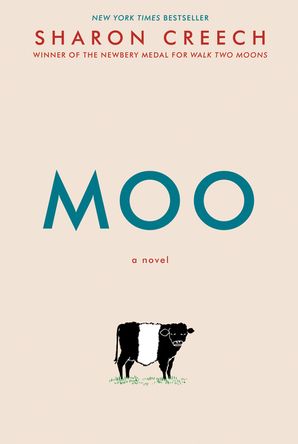 Read an excerpt
Moo
By Sharon Creech, Sharon Creech
Other Formats
Description
This uplifting New York Times bestseller reminds us that if we're open to new experiences, life is full of surprises.
Fans of Newbery Medal winner Sharon Creech's Love That Dog and Hate That Cat will love her newest tween novel, Moo. Following one family's momentous move from the city to rural Maine, an unexpected bond develops between twelve-year-old Reena and one very ornery cow.
When Reena, her little brother, Luke, and their parents first move to Maine, Reena doesn't know what to expect. She's ready for beaches, blueberries, and all the lobster she can eat. Instead, her parents "volunteer" Reena and Luke to work for an eccentric neighbor named Mrs. Falala, who has a pig named Paulie, a cat named China, a snake named Edna—and that stubborn cow, Zora.
This heartwarming story, told in a blend of poetry and prose, reveals the bonds that emerge when we let others into our lives.
Praises & Awards
Praises
Kirkus Reviews (starred review)
Newbery Medalist Creech touches on themes of loss, friendship, and belonging in this appealing tale. The book's playful use of words sets this novel apart. Fans of Love That Dog will find much to love in this story of a girl, a cow, and so much more.
Publishers Weekly (starred review)
As Reena learns that a little kindness works wonders for both people and animals, Creech's spare narrative creates vivid, emotion-packed images of landscapes, characters, and "that/ wild-eyed/ heifer," Zora, that will stay with readers.
School Library Journal (starred review)
Creech offers a memorable family story featuring an especially difficult cow… A heartfelt tale that will be embraced by Creech's fans, work well as a classroom read-aloud, and find a spot in book groups.
Bulletin of the Center for Children's Books
The quick pace and accessible narrative will win over reluctant readers, and it's an easy pick for fans of Creech's Love That Dog or animal lovers looking for a quick yet moo-ving read.
Product Details
Imprint: HarperCollins
Format: Paperback
On Sale: 08/29/2017
ISBN: 9780062415264
ISBN10: 0062415263
Pages: 288
Trimsize: 7.625 x 5.125 in
Subcategory:
JUVENILE FICTION / Stories in Verse
JUVENILE FICTION / Animals / Farm Animals
JUVENILE FICTION / Lifestyles / Country Life