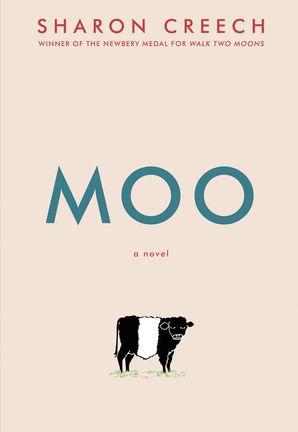 Read an excerpt
Moo
By Sharon Creech, Sharon Creech
Other Formats
Description
This uplifting New York Times bestseller reminds us that if we're open to new experiences, life is full of surprises.
Fans of Newbery Medal winner Sharon Creech's Love That Dog and Hate That Cat will love her newest tween novel, Moo. Following one family's momentous move from the city to rural Maine, an unexpected bond develops between twelve-year-old Reena and one very ornery cow.
When Reena, her little brother, Luke, and their parents first move to Maine, Reena doesn't know what to expect. She's ready for beaches, blueberries, and all the lobster she can eat. Instead, her parents "volunteer" Reena and Luke to work for an eccentric neighbor named Mrs. Falala, who has a pig named Paulie, a cat named China, a snake named Edna—and that stubborn cow, Zora.
This heartwarming story, told in a blend of poetry and prose, reveals the bonds that emerge when we let others into our lives.
Praises & Awards
Praises
Kirkus Reviews (starred review)
Newbery Medalist Creech touches on themes of loss, friendship, and belonging in this appealing tale. The book's playful use of words sets this novel apart. Fans of Love That Dog will find much to love in this story of a girl, a cow, and so much more.
Publishers Weekly (starred review)
As Reena learns that a little kindness works wonders for both people and animals, Creech's spare narrative creates vivid, emotion-packed images of landscapes, characters, and "that/ wild-eyed/ heifer," Zora, that will stay with readers.
School Library Journal (starred review)
Creech offers a memorable family story featuring an especially difficult cow… A heartfelt tale that will be embraced by Creech's fans, work well as a classroom read-aloud, and find a spot in book groups.
Bulletin of the Center for Children's Books
The quick pace and accessible narrative will win over reluctant readers, and it's an easy pick for fans of Creech's Love That Dog or animal lovers looking for a quick yet moo-ving read.
Product Details
Imprint: HarperCollins
Format: Hardcover
On Sale: 08/30/2016
ISBN: 9780062415240
ISBN10: 0062415247
Pages: 288
Trimsize: 7.500 x 5.250 in
Subcategory:
JUVENILE FICTION / Stories in Verse
JUVENILE FICTION / Animals / Farm Animals
JUVENILE FICTION / Lifestyles / Country Life
Inspiration
Three years ago, my daughter and son-in-law and their two children (our beloved grandchildren) made a sudden decision to move from the heart of Washington, D. C., where they had lived for a decade, to coastal Maine. "Why don't you come, too?" they asked.
And so my husband and I, after living twenty years in Europe and after recently renovating a house in western New York state, where we thought we'd stay a while, thought, "Why not?" and so we, too, made the move to Maine. There we became enamored not only of all-things-Maine, but also, through our granddaughter's work at a local farm, by cows.
Cows! They are as individual as people. You come, too. You'll see.
Tidbit
Zora the cow was inspired by one particularly feisty cow named Zola, who, at her first fair, bolted from the ring much as Zora does in this story.
The cows in this story are Belted Galloways. If you want to see what they look like and to see teens at work on a farm and at fairs, click here.
The 'hybrid' format—part prose, part poetry, part typographical dance—evolved from attempts to capture the varying rhythms of twelve-year-old Reena as she makes her way in this new place. Sometimes she is direct, sometimes lyrical, sometimes playful, and the words on the page mimic that.