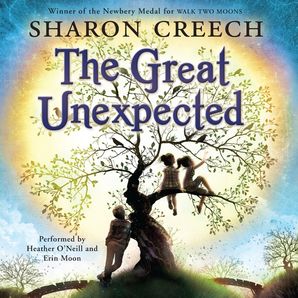 Read an excerpt
The Great Unexpected
By Sharon Creech
Other Formats
Description
I had big thoughts to match the big wind. I wondered if we find the people we need when we need them. I wondered if we attract our future by some sort of invisible force, or if we are drawn to it by a similar force. I felt I was turning a corner and that change was afoot.
In the little town of Blackbird Tree live two orphan girls: one Naomi Deane, brimming with curiosity, and her best friend, Lizzie Scatterding, who could talk the ears off a cornfield. Naomi has a knack for being around when trouble happens. For she knows all the peculiar people in town—like Crazy Cora and Witch Wiggins and Mr. Farley. But then, one day, a boy drops out of a tree. The strangely charming Finn boy. Then the Dingle Dangle man appears, asking all kinds of questions. Curious surprises are revealed—three locked trunks, a pair of rooks, a crooked bridge, and that boy. Soon Naomi and Lizzie find themselves zooming toward a future neither could ever have imagined. Meanwhile, on a grand estate across the ocean, an old lady whose heart has been deceived concocts a plan. . . .
As two very different worlds are woven together, Newbery Medal winner Sharon Creech celebrates the gossamer thread that connects us all, and the great and unexpected gifts of love, friendship, and forgiveness.
Product Details
Publisher: HarperCollins
Imprint: HarperCollins
Format: Downloadable audio file
On Sale: 09/04/2012
ISBN: 9780062201904
ISBN10: 0062201905
Trimsize: x in
Subcategory:
JUVENILE FICTION / General
FICTION / Literary
JUVENILE FICTION / Family / Multigenerational
Inspiration
Three different seeds came together to form this story:
The first: Several years ago when I was visiting a school, I asked how the students felt about "the unexpected." I forget why I was asking that question, but their response surprised me. I thought they would be intrigued, excited, curious. Instead, they collectively leaned back in their seats. They seemed worried and fearful. Their responses: "I don't like it"; "It's bad"; "It's scary."
That bothered me. When I was young and when my children were young, the unexpected was exciting: Visitors! A trip! Surprises! I wondered if we adults and the media were passing along our own worries, taking the excitement out of the unexpected. I wanted to restore some of that excitement.
The second: I've long been fascinated by the magical elements that abound in everyday life and by how easily and creatively young people move between the worlds of fantasy and reality, by how rich their imaginative worlds are. (Sometimes, I fear, that imagination is drained out of them as they grow up.) I wanted to explore the ways in which we shape our own reality – from many sources, past and present, 'real' and 'unreal.'
The third: Rolling around in my brain for a long, long time has been an interest in odd coincidences and in the many ways in which we are all connected – some of these connections become apparent to us, and some may never be known. I like the intrigue of that discovery and that continued mystery and seem to explore some version of this in most of my books.
These three elements rumbled in my mind for years, until they mashed up with images of a girl named Naomi, a boy named Finn, a cranky old lady, a crooked bridge, rooks, a small American town and an Irish village. And so emerged this story wherein fantasy and reality merge, where connections surface between seemingly distant people, places and things, and where the unexpected can be great.
> Listen to the beginning of The Great Unexpected—read by me!
Tidbit
A beagle and cows are important to the boy in this story. I knew that the beagle was inspired by my sister's dog, but I had no idea where the cows came from. Ironically, six months after finishing The Boy on the Porch, my granddaughter started working on a cow farm where she became especially attached to one particular cow and where she regularly draped herself across its back, much as the boy in the story 'rides' the cow.
Recently we moved to Maine to be near our grandchildren. On one of our first days in Maine, I took this photo of our grandson—a boy on a porch: