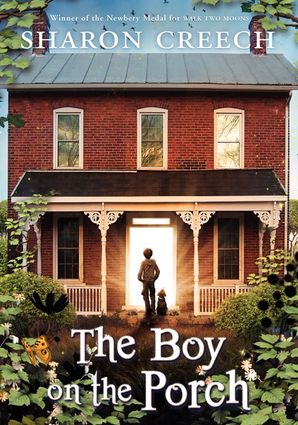 Read an excerpt
The Boy on the Porch
By Sharon Creech, Sharon Creech
Other Formats
Description
"This quiet novel sings. A graceful profound story for all ages that speaks well beyond its intended audience." —Kirkus (starred review)
Fans of Newbery Medal winner Sharon Creech's Ruby Holler will love this tween novel about opening your heart and finding family when you least expect it.
When a young couple finds a boy asleep on their porch, their lives take a surprising turn. Unable to speak, the boy, Jacob, can't explain his history. All John and Marta know is that they have been chosen to care for him.
And as their connection and friendship with Jacob grow, they embrace his exuberant spirit and talents. The three of them blossom into an unlikely family and begin to see the world in brand-new ways.
Praises & Awards
Praises
Kirkus Reviews (starred review)
"This quiet novel sings. A graceful profound story for all ages that speaks well beyond its intended audience."
Publishers Weekly
"A page-turner for readers of any age."
Booklist
"A rich and gracious story crafted in Creech's masterful hands."
Bulletin of the Center for Children's Books
"A tender exploration of the power of a found family and the
 depth and value of temporary connections."
Product Details
Imprint: HarperCollins
Format: Hardcover
On Sale: 09/03/2013
ISBN: 9780061892356
ISBN10: 0061892351
Pages: 160
Trimsize: 7.500 x 5.250 in
Subcategory:
JUVENILE FICTION / Family / Adoption
JUVENILE FICTION / Family / Multigenerational
JUVENILE FICTION / Social Issues / Friendship
Inspiration
Three mornings in a row, I woke hearing this phrase in my head: "the boy on the porch." I had no idea to whom or what those words referred, but after the third day, I thought I'd better pay attention and write a story about the boy on the porch! I've learned to trust those instincts.
The story emerged steadily, a few pages a day, over the next few months, unfolding itself a scene at a time.
I discovered that the boy, who does not speak, is like all characters that do not have a voice until a writer is ready to listen to them; and he is like so many children who do not have a 'voice' in this world; and he is like all children who come into our lives: when they arrive—at any age—we wonder who they are and what they think and fear and feel and who they will become.
It was a challenge to write about a boy who does not speak, but I hope the reader learns as much about the boy through what he does and how he affects others as we might learn if he could use words.
I wish all children were as fortunate as the boy on the porch, who landed with a couple who cared about him. They are shaped as much–or more–by the boy as he might be shaped by them.
> Listen to the beginning of The Boy on the Porch—read by me!
Tidbit
A beagle and cows are important to the boy in this story. I knew that the beagle was inspired by my sister's dog, but I had no idea where the cows came from.  Ironically, six months after finishing The Boy on the Porch, my granddaughter started working on a cow farm where she became especially attached to one particular cow and where she regularly draped herself across its back, much as the boy in the story 'rides' the cow.
Recently we moved to Maine to be near our grandchildren. On one of our first days in Maine, I took this photo of our grandson—a boy on a porch: