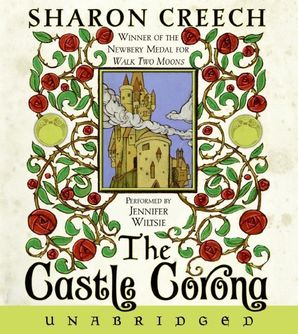 Read an excerpt
The Castle Corona
By Sharon Creech
Other Formats
Description
Long ago and far away . . .
There was a castle. But not just any castle. This was a castle that glittered and sparkled and rose majestically above the banks of the winding Winono River: the Castle Corona.
And in this castle lived a family. But not just any family. This was the family of King Guido: rich and royal and . . . spoiled. And King Guido was so spoiled that neither jewels nor gold nor splendid finery could please him, for what he longed for most was . . . a nap and a gown that didn't itch.
Far below this grand, glittering castle lived two peasants. But not just any peasants. These peasants, though poor and pitiful, were plucky and proud. And in possession of a stolen pouch. But not just any pouch. A pouch whose very contents had the power to unlock secrets and transform lives . . .
And oh, there is an author. But not just any author. Sharon Creech is a Newbery Medal-winning author whose tantalizing tale will not only dazzle and delight but also entertain and excite.
Praises & Awards
Awards
Parents' Choice Silver Honor
Product Details
Publisher: HarperCollins
Imprint: HarperCollins
Format: Downloadable audio file
On Sale: 10/02/2007
ISBN: 9780061554643
ISBN10: 0061554642
Trimsize: x in
Subcategory:
JUVENILE FICTION / General
JUVENILE FICTION / Royalty
JUVENILE FICTION / Fairy Tales & Folklore / General
JUVENILE FICTION / Historical / Medieval
Inspiration
Castles have been swirling in my mind since I was young, when I climbed trees and imagined I was a sentry, guarding the castle. During the nineteen years I (as a grown-up) lived in Europe, I saw many castles, most in ruins, and I always wondered who had lived there and what had happened within those walls. Every Saturday my husband, children, and I did our weekly shopping in Windsor. Windsor Castle, part-time home to the Queen, stands in the center of town. Often I wondered what was going on inside those castle walls.
When I returned to the States, in the small town of Mayville, New York, I was running errands. In the center of town stands the jail. I wondered how the prisoners felt and what similarities there might be between castle dwellers and prisoners, both encircled by strong walls. When I began this book, I didn't know whether it would be serious or humorous, but once I met the royals, ho! They made me laugh.
Tidbit
The artwork: My editor and publisher, Joanna Cotler, and I have long discussed the relationship between word and image, and of the book as art object.
For this story, we both wanted art that reflected the story's medieval setting. Joanna's particular vision was for something that resembled sixteenth century illuminated manuscripts. She and David Diaz refined the approach and David came up with lush artwork: full-color iconic emblems backed by decorative flourishes for the beginning of each chapter.