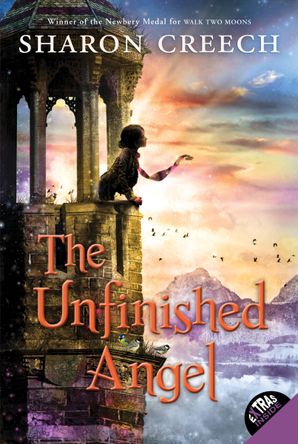 Read an excerpt
The Unfinished Angel
By Sharon Creech, Sharon Creech
Other Formats
Description
Newbery Medal winner Sharon Creech crafts a truly endearing story, one that is imbued with happiness, wonder, and an appreciation for all the little things that make life big. With beautiful, fresh new cover art, this is a gem of a book.
In the winding stone tower of the Casa Rosa, in a quiet little village in the Swiss Alps, lives one very unlikely angel—one that is still awaiting her instructions from the angel-training center. What happens to an angel who doesn't know her mission? She floats and swishes from high above, watching the crazy things that "peoples" say and do. But when a zany American girl named Zola arrives in town and invades the Casa Rosa, dogs start arfing, figs start flying through the air, lost orphans wander in, and the village becomes anything but quiet. And as Zola and the angel work together to rescue the orphans, they each begin to realize their purpose and learn that there is magic in the most ordinary acts of kindness.
Product Details
Imprint: HarperCollins
Format: Paperback
On Sale: 12/23/2013
ISBN: 9780061430978
ISBN10: 0061430978
Pages: 160
Trimsize: 7.625 x 5.125 in
Subcategory:
JUVENILE FICTION / People & Places / Europe
JUVENILE FICTION / Legends, Myths, Fables / General
JUVENILE FICTION / Social Issues / Emotions & Feelings
Inspiration
When my granddaughter was two years old, she told her first story: "Once upon a time in Spain there was an angel, and the angel was me. The end." That fascinated me! I wanted to know more! I thought about that line often, hoping it would inspire the rest of the story. Then, for the school year 2007–2008, my husband accepted a one-year position at the boarding school in Switzerland where we had lived and worked when we were first married. As soon as we returned to Switzerland and I saw the old tower on campus, I knew that the angel would live there. I knew that the whole village was part of the story.
Tidbit
In Switzerland, while I was immersed in re-learning Italian (the language of southern Switzerland), I found myself talking strangely and comically, mixing English and Italian and mangling grammar in both languages. Not only could I not speak Italian correctly, but I could no longer speak English correctly! The two languages were so tangled in my brain. An example: I'd need the word that meant attractive, but I couldn't find that exact word. Instead, I'd think of attractiful or attracting. The only way this story was going to get written was if I let the angel speak the way my brain was working that year!
I am a little hesitant to admit it, but many scenes in this book make me laugh and laugh. Here are three of my favorites:
From the chapter "My Territory," when Zola asks the angel if the angel has wings
 From the chapter "Lizards," when Rosetta confesses to eating a lizard's tail
From the chapter "Pigeons," when the angel reacts to Zola's pigeon story
View from the angel's tower
The angel's tower             The "chicken shad," where the orphans are first found