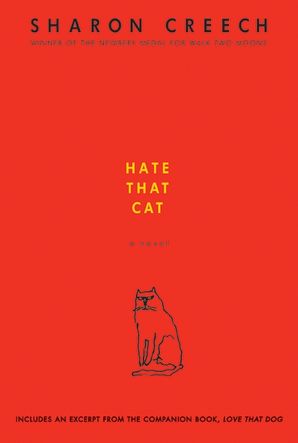 Read an excerpt
Hate That Cat
By Sharon Creech, Sharon Creech
Other Formats
Description
Return to Miss Stretchberry's class with Jack, the reluctant poet, who over the course of a year encounters new and challenging things like metaphors, alliterations, onomatopoeia, and one mean fat black cat!
The Newbery Medal-winning author of Walk Two Moons, Sharon Creech, introduced Jack in Love That Dog, a New York Times bestseller. Both Love That Dog and Hate That Cat are approachable, funny, warm-hearted introductions to poetry told from the point of view of a very real kid wrestling with school assignments.
These books are fast reads that will be welcomed by middle graders as they too wonder how poetry and schoolwork connect with their interests and how to uncover their true voices.
In Hate That Cat, Jack is only trying to save that fat black cat stuck in the tree by his bus stop—but the cat scratches him instead! At school Miss Stretchberry begins teaching new poems, everything from William Carlos Williams to Valerie Worth to T.S. Eliot.
As the year progresses, Jack gradually learns to love that cat and finds new ways to express himself.
Praises & Awards
Awards
Cooperative Children's Book Center Choice
Product Details
Imprint: HarperCollins
Format: Paperback
On Sale: 02/23/2010
ISBN: 9780061430947
ISBN10: 0061430943
Pages: 176
Trimsize: 7.625 x 5.125 in
Subcategory:
JUVENILE FICTION / General
JUVENILE FICTION / Animals / Cats
POETRY / General
JUVENILE FICTION / School & Education
Inspiration
Even if I'd wanted to escape Jack's voice once I'd finished Love That Dog, I couldn't. Not only were his rhythms ingrained in my brain, but hundreds—maybe thousands—of readers wrote to me about this book, often in the voice of Jack. Most of the letters began, "Dear Miss Creech, you probably don't want to hear from me . . ." just as Jack began his letter to his favorite poet, Walter Dean Myers. Nearly all of the letters were either written in verse form or included poems. So many of the letters asked if there would be a sequel to Love That Dog, and readers often suggested titles: Love That Gerbil and Love That Horse—oh, there were so many animals suggested, even Love That Worm and Love That Turtle.
So, on a weekly basis, when the fan mail arrived, I'd hear Jack again, and it was nice. I like Jack. I thought I'd try to follow him into his next year of school, to see if he had changed, if he would grow as a writer, and to explore his relationship with another animal. A cat seemed a nice balance to the dog in Love That Dog, and "hate" seemed a nice balance to "love," and thus: Hate That Cat. While Jack tells the story of one particular mean cat, he also lets us hear another story in his life: one of sound and silence. And just as Love That Dog touched on Jack's relationship with his father, so this story touches on Jack's relationship with his mother.
Tidbit
After I'd sent in a draft of Hate That Cat to my editor, her "right-hand-editor," Karen Nagel, sent me a cat joke that she made up. It made me laugh and I asked if I could use it. It's the "me-OW" joke. (Why did the man throw the cat out the window? He wanted to hear it say, "Me-OW!")
When I was midway through writing this story, I saw Walter Dean Myers at a readers' theatre event, and he mentioned he had a cat. A cat! Walter Dean Myers is a very, very tall man. He looks like a pro basketball player. I didn't expect him to have a wee little fragile cat. That makes its way into this story.
Another discovery, when I was midway through writing this book, was the existence of a book called Black Cat. Not only was it a perfect book for Miss Stretchberry to introduce to her class, but also it was written by Walter Dean Myers' son, Christopher Myers. Like Jack, I was beginning to feel as if the whole Myers family was in my brain.