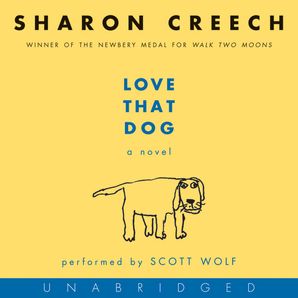 Read an excerpt
Love That Dog CD
By Sharon Creech
Audiobook CD Unabridged
$13.95
BUY NOW
Other Formats
Description
The Newbery Medal-winning author of Walk Two Moons, Sharon Creech, brings readers a story with enormous heart.
Love That Dog shows how one boy named Jack finds his voice with the help of a teacher, a pencil, some yellow paper, and of course, a dog. Written as a series of free-verse poems from Jack's point of view, and with classic poetry included in the back matter, this novel is perfect for kids and teachers, too.
Jack hates poetry. Only girls write it and every time he tries to, his brain feels empty. But his teacher, Ms. Stretchberry, won't stop giving her class poetry assignments—and Jack can't avoid them. But then something amazing happens. The more he writes, the more he learns that he does have something to say.
"I guess it does
look like a poem
when you see it
typed up
like that."
Product Details
Imprint: HarperFestival
Format: CD-Audio
On Sale: 03/14/2006
ISBN: 9780060852788
ISBN10: 006085278X
Trimsize: x in
Subcategory:
JUVENILE FICTION / Stories in Verse
JUVENILE FICTION / Animals / Dogs
JUVENILE FICTION / School & Education
Inspiration
Walter Dean Myers' poem, "Love That Boy," has hung on my bulletin board for years. It's at eye level, so I probably glance at it a dozen times a day. I love that poem—there is so much warmth and exuberance in it. (The poem is reprinted at the back of Love That Dog.)
One day as I glanced at this poem, I started thinking about the much-loved boy in Myers' poem. I wondered what that boy might love. Maybe a pet? A dog? Maybe also a teacher? And whoosh—out jumped Jack's voice.
Our straggly shaggy dog, Tia
Tidbit
When I wrote this story, I'd only met Walter Dean Myers once. I suspected early on in writing this story that Myers' poem would be important to Jack, but I was surprised when Walter Dean Myers himself entered the story. I was worried about that—not sure if I could have a living person as a character in my story. I tried to get Walter Dean Myers out of the story, but his absence left a big, empty hole. The whole story pivots on his poem and his influence on Jack.