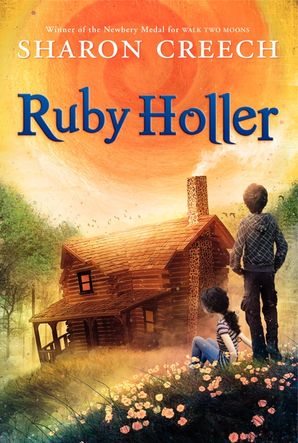 Read an excerpt
Ruby Holler
By Sharon Creech, Sharon Creech
Other Formats
Description
From Sharon Creech, the Newbery Medal winning author of Walk Two Moons, comes a heartwarming adventure about finding family, and a home, when you least expect it.
Ruby Holler is a Carnegie Medal-winning novel, and with its quirky protagonists and exciting journey, captures the imaginations of readers of all ages.  
Brother and sister Dallas and Florida are the "trouble twins." In their short thirteen years, they've passed through countless foster homes, only to return to their dreary orphanage, Boxton Creek Home.
Run by the Trepids, a greedy and strict couple, Boxton Creek seems impossible to escape. When Mr. Trepid informs the twins that they'll be helping old Tiller and Sairy Morey go on separate adventures, Dallas and Florida are suspicious.
As the twins adjust to the natural beauty of the outdoors, help the Tillers prepare for their adventures, and foil a robbery, their ultimate search for freedom leads them home to Ruby Holler.
Praises & Awards
Praises
Publishers Weekly (starred review)
"This poignant story evokes a feeling as welcoming as fresh-baked bread."
Kirkus Reviews (starred review)
"An altogether engaging outing."
Publishers Weekly (starred review)
"This poignant story evokes a feeling as welcoming as fresh-baked bread."
Kirkus Reviews (starred review)
"An altogether engaging outing."
Awards
Volunteer State Book Award (Tennessee)
Young Hoosier Book Award (Indiana)
California Young Reader Medal
Book Sense Pick
Carnegie Medal
New York Public Library's "One Hundred Titles for Reading and Sharing"
School Library Journal Best Book
ALA Notable Children's Book
Product Details
Imprint: HarperCollins
Format: Paperback
On Sale: 04/24/2012
ISBN: 9780060560157
ISBN10: 0060560150
Pages: 288
Trimsize: 7.625 x 5.125 in
Subcategory:
JUVENILE FICTION / Family / Siblings
JUVENILE FICTION / General
JUVENILE FICTION / Family / Orphans & Foster Homes
JUVENILE FICTION / Action & Adventure / General
Inspiration
About six years ago I received a letter from my aunt in which she related a story about my father when he was young. She ended the story with "and that was when we lived in the holler." Holler? I hadn't known about the holler and was intrigued by the notion of my father and his many siblings and parents living in this place.
I began to imagine the place, and as I did so, I knew it would be a great setting for a story, but it was several years before I began to see who the characters might be who would live in this holler. I think that the older couple, Tiller and Sairy, evolved because I was thinking of my grandparents living in a holler, and this couple resembles my grandparents in some ways.
The children, Dallas and Florida, probably came to life because I'd been thinking of my father as a mischievous child (that was evident in the original story my aunt told) and his equally-mischievous siblings.


After I'd begun the story, I saw a real photo of my grandparents' house in the holler. The house was but a tiny shack, rather decrepit looking, and the holler wasn't as enchanting as the one I imagined. I'm glad I didn't see the photo before I began the story!
Tidbit
The understone funds evolved in a rather strange way. Many years ago, a Russian friend of my sister and her husband was visiting them and became interested in a chipmunk that lived in their backyard, appearing and disappearing into a hole beneath a stone. The friend referred to the chipmunk as their "understone friend." Somehow that stayed with me and became understone funds.
In the chapter "The God," Tiller talks about how a woman who had visited recently had referred to him as "a god." Tiller is obviously quite proud of this, but Sairy says, in her cool, ironic way, "And you believed her." This is based on a story my sister told me about her husband. It seemed to fit Tiller and Sairy perfectly.