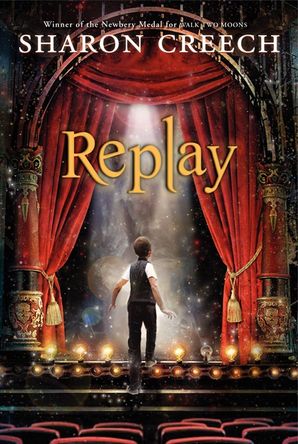 Read an excerpt
Replay
By Sharon Creech, Sharon Creech
Other Formats
Description
Newbery Medal winner Sharon Creech's inspired novel tells the story of a boy who fantasizes about who he is in order to discover who he will become. Now with fresh and gorgeous new cover art, this touching tale has received many starred reviews, and was called a "warm, funny, philosophical novel" by Kirkus Reviews.
With the backdrop of a large family and a theater as its frame, this is a story about twelve-year-old Leo, who has a talent for transforming the ordinary into the extraordinary. That's why he's called "fog boy." He's always dreaming, always replaying things in his brain. As an actor in the school play, he is poised and ready for the curtain to open. But in the play that is his life, he is eager to discover what part will be his.
With the universal theme of finding one's true identity, and set amid a loud, noisy, memorable family, Leo's story is one that all kids will relate to. And there's a full play at the end of the book that kids and teachers can perform!
Praises & Awards
Awards
Book Sense Pick
New York Public Library's "One Hundred Titles for Reading and Sharing"
Product Details
Imprint: HarperCollins
Format: Paperback
On Sale: 04/23/2013
ISBN: 9780060540210
ISBN10: 0060540214
Pages: 224
Trimsize: 7.625 x 5.125 in
Subcategory:
JUVENILE FICTION / Family / Multigenerational
JUVENILE FICTION / Performing Arts / Theater
JUVENILE FICTION / Social Issues / Self-Esteem & Self-Reliance
Inspiration
So what inspired this book? Two things mainly. The first was that I was thinking about how much of my life involves spinning scenes in my mind and then onto paper and I wondered if that came from the needing or wanting to reshape or replay the often chaotic scenes of real life. Here's what Leo says when he is thinking about his father telling stories and about himself, Leo, now doing the same thing:
"It seemed to Leo that he—Leo—was only doing what Papa did every day, taking little moments and dressing them up so that they were more pleasing to your eye, your ear, your mind. And once you had dressed them up like that, they took root in your mind, replacing the other, more drab or hurtful ones."


And maybe that is what I am trying to do in each book I write. Offer readers little moments that are more pleasing to their ears, eyes, minds. Moments which might replace other more drab or hurtful ones they encounter in the real world.
The other impetus for this book came from my granddaughter, Pearl, with whom I am completely besotted. Even as a young child, she had a very rich, imaginative life, adoring books and spinning her own little stories. One of the first stories she told, very short, was when she was two. It went like this: "Once upon a time in Spain there was an angel, and the angel was me. The end." There, a two-year-old already replaying her life, recasting herself as an angel. Ahh.
Pearl is full up to the top of her curly blond head with joy. As a girl, she sang and danced wherever we went. To the park, to the mall, in the grocery store, people would stop and smile at her and say, "Ahh." And so while I was thinking about how much time I spend replaying scenes in my mind, I had this image of the joyful Pearl dancing. And out of that came Leo, a boy who tap-dances in the attic and who has a rich, imaginative life, replaying scenes in his mind.
Tidbit
The main character, Leo, reminds me of a young Walter Mitty, replaying events in his mind, casting himself as a hero instead of a little sardine. I like the way Leo also replays his father's life as he reads his autobiography and the way this is echoed in the play Leo is in. Rumpopo replays his life too, through stories. I hope readers will also enjoy having the full text of the Rumpopo play at the end of the book, so they can act it out.