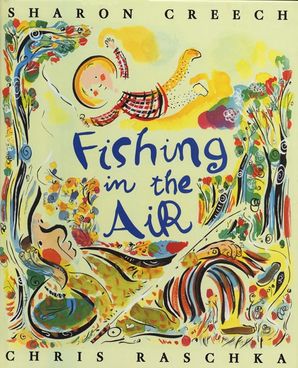 Fishing in the Air
By Sharon Creech
Description
Early in the blue-black morning, a father and son slip out of the house with their fishing poles and a can of worms. But this is no ordinary fishing trip. With their lines and bobbers, they cast high into the air to catch the breeze, the sky, the sun, and best of all -- some wonderful memories.
In her first picture book, Sharon Creech, author of the Newbery Medal winner Walk Two Moons, teams up with Caldecott Honor artist Chris Raschka to create a beautifully lyrical and richly imagined tale about the powerful bond between a father and son.
Product Details
Imprint: HarperCollins
Format: Paperback
On Sale: 04/15/2003
ISBN: 9780060516062
ISBN10: 0060516062
Pages: 32
Trimsize: 11.000 x 9.000 in
Subcategory:
JUVENILE FICTION / Family / Parents
JUVENILE FICTION / Nature & the Natural World / General
JUVENILE FICTION / Social Issues / Emotions & Feelings
Inspiration
When I was twelve, my family was vacationing at a Wisconsin lake, and one day we went for a drive, in search of the house in which my father was born. As we drove along, my father described the house: a farm house, small and gray; and he described the green fields which spread out around it, and the clear stream which ran nearby, in which he had learned to fish. Finally, we found the fields and the trees and the creek, but no house. "It's gone," my father said.
We returned to the lake, and there I joined my father, fishing. We baited our hooks and cast our lines. But inside I was filled with such disappointment, such longing. Why couldn't the house have been there? Why couldn't it have waited for him?
As I stared at the water, I formed an image of that house, piece by piece—I must have wanted to see it so badly! Glimpses of it floated up from the depths of the lake: the roof, the walls, the windows, and my father as a boy coming out of the house, carrying a fishing pole.
Fishing in the Air is my attempt to recast that scene with a father and his son. To me, it is about how we learn to see the world, and about the gift of imagination we receive from our parents. The title comes from a phrase in Walk Two Moons, in which Salamanca describes herself as "a fisher in the air." There are many echoes for me in this book: In writing it, I also caught my own father and his small gray house, and I caught a piece of my young self, sitting in that rowboat with my father, fishing in the air.
I love Chris Raschka's artwork for this book, and the way the images swirl and dance as the boy and father talk. Raschka has been able to show, visually, the abstract action of the imagination.
Tidbit
I don't really like fishing—I mean the act of catching fish. What I do love is sitting in a rowboat or on the dock with a fishing rod, casting lazily into the air. To me, fishing is more about being outside in a tranquil setting, smelling the air, gazing at the water and the sky.
It is also about the small and large exchanges between you and whoever you are with. Some of my fondest memories of my father are from times when he took my brothers, sister, and me fishing, and he'd point out a tree on the bank, or a cloud overhead, or a dark pool of water in the distance. My mother gave us her own, different gifts of the imagination, but many of my father's gifts were an appreciation for the outdoors, a way of seeing and smelling and feeling things that you could "catch" and bring home with you and call upon when you needed them.
My son Robby and My father