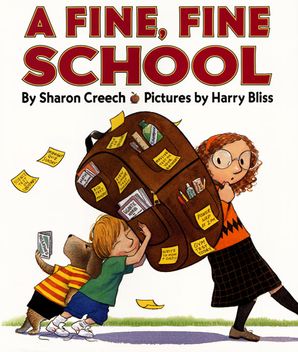 A Fine, Fine School
By Sharon Creech
Other Formats
Description
A Fine, Fine School is a delight for kids, with its colorful illustrations and gentle comeuppance for a well-meaning principal who learns that learning outside of school can be just as important as being in school.
Tillie goes to a fine, fine school where kids learn about dinosaurs, build pyramids, and paint portraits. When her principal decides to call all the students and teachers together for an announcement, no one could have predicted he would say that there will be school on Saturdays! Soon everyone goes to school on Sundays, holidays, and even the summer. He loves school so much that he forgets to give anyone time off!
This funny picture book from Newbery Medal winner Sharon Creech, author of Walk Two Moons, and New Yorker cartoonist Harry Bliss is perfect for classroom sharing and for kids who enjoy school but want everyone to remember that time off is important too!
Praises & Awards
Praises
Kirkus Reviews
"Charming."
Publisher's Weekly (starred review)
"Impressive … Expressive … Clever."
ALA Booklist (starred review)
"This book has it all."
BookPage.com
"Charming, rhythmical and humorous."
Awards
California Young Reader Medal
Buckaroo Book Award nominee (Wyoming)
Book Sense Pick
Irma S. and James H. Black Award for Excellence in Children's Literature Honor Book
Product Details
Imprint: HarperCollins
Format: Hardcover
On Sale: 07/24/2001
ISBN: 9780060277369
ISBN10: 006027736X
Pages: 32
Trimsize: 11.000 x 9.000 in
Subcategory:
JUVENILE FICTION / General
JUVENILE FICTION / Humorous Stories
JUVENILE FICTION / School & Education
JUVENILE FICTION / Social Issues / Self-Esteem & Self-Reliance
Inspiration
My husband was a headmaster, and we used to live on a school campus. My husband loved his school and was an enthusiastic advocate for it, full of pride for the students, teachers, and staff. Because this school was both a day school and boarding school, school hours were not limited to eight-to-three Monday through Friday. There were also meetings and events and activities in the evenings and on weekends. I think that sometimes everyone felt as if there is a little too much school! I thought I'd take a light-hearted look at this. What if there were even more school? What if a headmaster or principal loved his school so much that he required more . . . and more . . . and more?
Tidbit
I think the story is amusing on its own, but I find Harry Bliss's illustrations really funny. He's made Tillie's dog into a great character, and he also shows the increasingly encumbered students toting enormous backpacks and books like Ridiculously Difficult Algebra and The Meaning of Life. There are so many funny things going on in each picture. This was Harry Bliss's first picture book.
Me reading to my granddaughter, Pearl