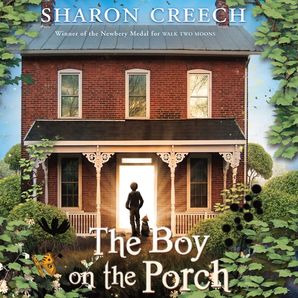 Read an excerpt
The Boy on the Porch
By Sharon Creech
Other Formats
Description
When John and Marta found the boy on the porch, they were curious, naturally, as to why he was there—and they hadn't expected him to stay, not at first, but he did stay, day after day, until it seemed as if he belonged, running and smiling and laughing his silent laugh, tapping and patting on every surface as he made his music, and painting—with water, with paint, with mud—those swirly swirls and swings and trees.
One day a young couple wakes to find a boy asleep on their porch. Unable to speak, the boy cannot explain his history. What kind of people would leave their child with strangers? All John and Marta know is that they have been chosen to care for this boy. As their connection to him grows, they embrace his exuberant spirit and talents. The three of them blossom into an unlikely family, but how long can their happiness last? From Newbery Medal winner Sharon Creech comes a singular story that reminds us of the surprising connections that emerge when generosity prevails.
Product Details
Publisher: HarperCollins
Imprint: HarperCollins
Format: Downloadable audio file
On Sale: 09/03/2013
ISBN: 9780062280336
ISBN10: 0062280333
Trimsize: x in
Subcategory:
JUVENILE FICTION / Family / General
JUVENILE FICTION / Family / Multigenerational
JUVENILE FICTION / Social Issues / Friendship
Inspiration
Three mornings in a row, I woke hearing this phrase in my head: "the boy on the porch." I had no idea to whom or what those words referred, but after the third day, I thought I'd better pay attention and write a story about the boy on the porch! I've learned to trust those instincts.
The story emerged steadily, a few pages a day, over the next few months, unfolding itself a scene at a time.
I discovered that the boy, who does not speak, is like all characters that do not have a voice until a writer is ready to listen to them; and he is like so many children who do not have a 'voice' in this world; and he is like all children who come into our lives: when they arrive—at any age—we wonder who they are and what they think and fear and feel and who they will become.
It was a challenge to write about a boy who does not speak, but I hope the reader learns as much about the boy through what he does and how he affects others as we might learn if he could use words.
I wish all children were as fortunate as the boy on the porch, who landed with a couple who cared about him. They are shaped as much–or more–by the boy as he might be shaped by them.
> Listen to the beginning of The Boy on the Porch—read by me!
Tidbit
A beagle and cows are important to the boy in this story. I knew that the beagle was inspired by my sister's dog, but I had no idea where the cows came from.  Ironically, six months after finishing The Boy on the Porch, my granddaughter started working on a cow farm where she became especially attached to one particular cow and where she regularly draped herself across its back, much as the boy in the story 'rides' the cow.
Recently we moved to Maine to be near our grandchildren. On one of our first days in Maine, I took this photo of our grandson—a boy on a porch:
More Great I CAN READ! BOOKS