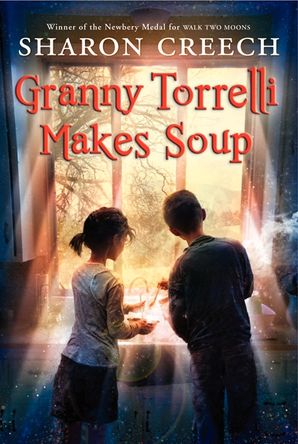 Read an excerpt
Granny Torrelli Makes Soup
By Sharon Creech, Sharon Creech
Other Formats
Description
Bailey, who is usually so nice, Bailey, my neighbor, my friend, my buddy, my pal for my whole life, knowing me better than anybody, that Bailey, that Bailey I am so mad at right now, that Bailey, I hate him today.
Twelve-year-old Rosie and her best friend, Bailey, don't always get along, that's true. But Granny Torrelli seems to know just how to make things right again with her warm words and family recipes. She understands from experience that life's twists and turns can't rattle the unique bond between two lifelong pals.
Newbery Medal winner Sharon Creech cooks up a delightfully tender novel, filled with homemade dishes and secret recipes. It's easy to remember what's important about love, life, and friendship while Granny Torrelli makes soup.
Praises & Awards
Awards
Virginia Young Readers Award
Book Sense Pick
New York Public Library's "One Hundred Titles for Reading and Sharing"
ALA Booklist Editors' Choice
ALA Notable Children's Book
Product Details
Publisher: HarperCollins
Imprint: HarperCollins
Format: eBook
On Sale: 10/06/2009
ISBN: 9780061972461
ISBN10: 0061972460
Pages: 160
Trimsize: x in
Subcategory:
JUVENILE FICTION / Family / Multigenerational
JUVENILE FICTION / Social Issues / Friendship
JUVENILE FICTION / Social Issues / Special Needs
Inspiration
When I learned that my daughter was expecting her first child, I began thinking about what it would be like to be a grandparent. In remembering my own grandparents, it seemed that most of my memories of my grandmothers swirled around kitchens and food. There was something important—more important than the meals being made—that took place in those kitchens, and I wanted to explore that. I kept seeing images of my Italian grandmother, with her elfish smile and quick wit, and those images evolved into the character of Granny Torrelli.
Tidbit
Granny Torrelli refers to her own childhood friend as Pardo, which, in "real life" was the name of my grandfather.
Although I don't remember making zuppa with my grandmother, we did make cavatelli and sauce, just as Rosie, Bailey, and Granny Torrelli do in this story. And Rosie's favorite salad ("the one with oranges") was also my favorite when I was Rosie's age.
More Great I CAN READ! BOOKS