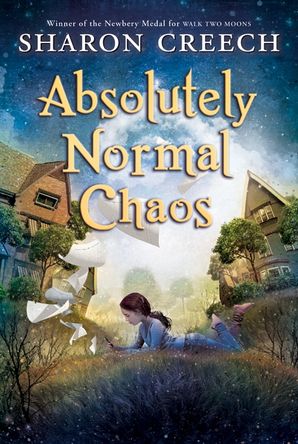 Read an excerpt
Absolutely Normal Chaos
By Sharon Creech, Sharon Creech
Other Formats
Description
Mary Lou Finney is less than excited about her assignment to keep a journal over the summer. Boring! Then cousin Carl Ray comes to stay with her family, and what starts out as the dull dog days of summer quickly turns into the wildest roller coaster ride of all time.
How was Mary Lou suppose to know what would happen with Carl Ray and the ring? Or with her boy-crazy best friend Beth Ann? Or with (sigh) the permanently pink Alex Cheevey? Suddenly a boring school project becomes a record of the most exciting, incredible, unbelievable summer of Mary Lou's life.
But what if her teacher actually does read her journal?
Praises & Awards
Awards
New York Public Library's "One Hundred Titles for Reading and Sharing"
Product Details
Publisher: HarperCollins
Imprint: HarperCollins
Format: eBook
On Sale: 10/06/2009
ISBN: 9780061972430
ISBN10: 0061972436
Pages: 256
Trimsize: x in
Subcategory:
JUVENILE FICTION / Social Issues / Adolescence
JUVENILE FICTION / General
JUVENILE FICTION / Family / General
Inspiration
I'd been living overseas (England and Switzerland) for about ten years, and I was very much missing my family back in the States. I thought I'd write a story about normal family chaos, and that's how this began, with me trying to remember what it was like growing up in my family. Writing the story was a way for me to feel as if my family were with me, right there in our little cottage in England.
My family is a lot like the Finney family—noisy, wacky. The brothers in Absolutely Normal Chaos share my own brothers' names (Dennis, Doug, and Tom), but the characters are fictional. And my older sister, Sandy, is definitely not like Mary Lou's older sister (my own sister is much nicer and far more intelligent). We did have a cousin who came to live with us when I was Mary Lou's age, and he was quite like the character Carl Ray is, but the things that happen to Carl Ray in this book did not happen to my real cousin.
Tidbit
Mary Lou gives her address in this book as 4059 Buxton Road—and that was my real address!
If you look closely, you can see the address
More Great I CAN READ! BOOKS