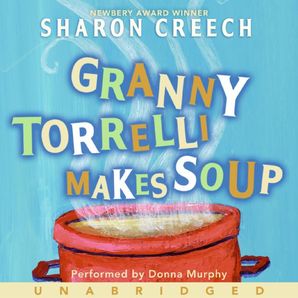 Read an excerpt
Granny Torrelli Makes Soup CD
By Sharon Creech
Audiobook CD Unabridged
$17.95
BUY NOW
Other Formats
Description
Twelve-year-old Rosie and her best friend, Bailey, don't always get along, that's true. But Granny Torrelli seems to know just how to make things right again with her interesting stories and family recipes. It's easier to remember what's important about love, life, and friendship while Granny Torrelli makes soup.
Product Details
Imprint: HarperFestival
Format: CD-Audio
On Sale: 11/22/2005
ISBN: 9780061122125
ISBN10: 0061122122
Trimsize: 0.000 x 0.000 in
Subcategory:
JUVENILE FICTION / Family / Multigenerational
JUVENILE FICTION / Social Issues / Friendship
JUVENILE FICTION / Social Issues / Special Needs
Inspiration
When I learned that my daughter was expecting her first child, I began thinking about what it would be like to be a grandparent. In remembering my own grandparents, it seemed that most of my memories of my grandmothers swirled around kitchens and food. There was something important—more important than the meals being made—that took place in those kitchens, and I wanted to explore that. I kept seeing images of my Italian grandmother, with her elfish smile and quick wit, and those images evolved into the character of Granny Torrelli.
Tidbit
Granny Torrelli refers to her own childhood friend as Pardo, which, in "real life" was the name of my grandfather.
Although I don't remember making zuppa with my grandmother, we did make cavatelli and sauce, just as Rosie, Bailey, and Granny Torrelli do in this story. And Rosie's favorite salad ("the one with oranges") was also my favorite when I was Rosie's age.